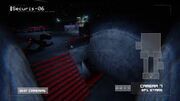 Stairs
is a location in Five Nights At The Chum Bucket.
Appearance
Edit
There is a large hallway full of stairs on one of the cameras, and they all look the same, with red pipes coming down the walls and many flights of stairs.
Characters
Edit
Sandy Cheeks and Patrick Star are known to go through here. They can also be seen in this camera if one looks closely to the side when viewing Dining Area.
A small egg resembling Flumpty Bumpty , a character from another FNAF fan-game called One Night At Flumptys, can be seen sitting at the top of the stairs on this camera. Clicking on it will trigger a voice saying " Hi, I'm an egg. " one of Flumptys known quotes from the game.
Ad blocker interference detected!
Wikia is a free-to-use site that makes money from advertising. We have a modified experience for viewers using ad blockers

Wikia is not accessible if you've made further modifications. Remove the custom ad blocker rule(s) and the page will load as expected.