This article is a Stub.
This article is a stub. Please help the Five Nights at Freddy's Wiki by expanding it.
Thank you!
The Office Is in FNaKK and FNaCB.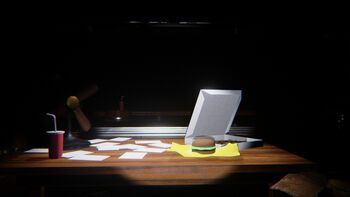 The Office (also known as the Security Guard's Office) is a location in Krusty Krab and the central location in Five Nights at Krusty Krab.
Appearance
Edit
It is a small room where the player will remain stationary for the entirety of the game, where the player will be viewing the movements of the animatronics by using the camera. The office contains a desk with papers, a Krabby Patty, a small drink, an open pizza box, and a small fan. One one side of the room there is a barrel, and on the other side a bunch of cardboard boxes.
Nearest to the player are two panels, one on each side, both of which have two buttons mounted on them. The top button closes and opens the doors, which protect the player from the intruding animatronics, and the lower buttons power on the corresponding lights to allow the player to see directly outside The Office. The longer the lights and doors are active, the more power is drained. There is an open entrance in the middle of the office where Squidward Tentacles will appear usually in the later nights.
Animatronics
Edit
Sandy Will appear on the right door, sometimes she can appear together with Spongebob.
Spongebob will appear on the right door, sometimes he can appear with Sandy.
Patrick will appear at the left door.
Squidward will appear on the big entrance in the middle of the office staring at the player.
Mr Krabs will not appear on any side of the office, he attacks directly from the left stairs.